The 6th WPMC2003 was held in October 21-22 in Yokosuka, Japan.
Official WEB site of WPMC2003 has already been closed.
The following information is cited from YRP News (No.29 Autumn 2003) (In Japanese)
The year of 2003 is the 150th anniversary that "Black Ships" (Warships), led by Commodore Matthew C. Perry , had  come to Uraga Bay, Yokosuka Japan in 1853 with a mission of opening  Japan to the world.
The 6th International Symposium on Wireless Personal Multimedia Communications (WPMC'03) was held on October 19-22, cosponsored by Communications Research Laboratory and YRP R&D Promotion Committee.
The meeting started on October 19 with tutorials and Special International Science Park Session (Note 1). The opening ceremony followed on 20. As General Chair of WPMC'03, Prof. Masao Nakagawa, Keio University delivered the opening address. Dr. Takashi Iida, President of Communications Research Laboratory, Prof. Dr. Mitsutoshi Hatori, Chairman of YRP R&D Promotion Committee, Mr. Hideo Sawada, Mayor of Yokosuka, and Mr. Tatsuo Kito, Director-General for Technology Policy Coordination, Ministry of Public Management, Home Affairs, Posts and Telecommunications (MPHPT) extended their greetings. Prof. Ken Sakamura, University of Tokyo gave a keynote address. There were another keynote speeches on 21 and 22 by Prof. Moti Yung, Columbia University U.S. and Dr. Jyri Huopaniemi, Nokia, Finland, both invited speakers (Note 2).
Total number of 431 attendees (181 from outside Japan) joined the WPMC2003.
There were 428 paper submissions for the conference, 332 of which were accepted, and presented in the technical sessions. Six of them were awarded as the outstanding papers in the
banquet on the evening of 21 (List on P.3).
During the symposium, Communications Research Laboratory the joint research group on broadband millimeter-wave wireless access demonstrated video transmission between YRP, Yokosuka City Office and Prince Hotel, the symposium venue. YRP Tours, organized for two days, were joined by nearly 100 people, mostly from abroad.
Yokosuka hosted WPMC'03 as a commemorative event to mark the 150th anniversary of U.S. Naval Commodore Perry's landing on Yokosuka, a historical milestone for Japan to open her door to the world. Apart from symposium participants, a hundred of Yokosuka residents were invited to the opening ceremony. Mr. Sawada, Mayor of Yokosuka hosted a reception for the participants. In the award banquet, there was a demonstration of a Morse telegraph by Denkitsushin Shinkoukai, and Communications Museum, and Communications Research Laboratory.
Finally, Mr. Pei, Deputy Mayor of Hangzhou, China presented the site of WPMC'04 Extra Event in March 2004, on behalf of the host. Prof. Pupolin, University of Padova, Italy, representing the local organizer, also introduced the venue of the next WPMC in September 2004.
WPMC'03 Keynote Speeches
Oct.20: "Toward the Realization of the Ubiquitous Computing Environment" by Prof. Ken Sakamura, University of Tokyo, Japan
Oct.21: "Security and Privacy in Active World" by Prof. Moti Yung, Columbia University, U.S.
Oct.22: "Future Directions in Mobile Multimedia Applications" by Dr. Jyri Huopaniemi, Nokia, Finland
Best paper Award Winners
"Performance Analysis of Decorrelating Decision Feedback
Detection for MIMO Systems in Rician Fading"
Sudharman K. Jayaweera*, H. Vincent Poor**
(*Wichita State University, U.S.A., ** Princeton University, U.S.A.)
"Adaptive Resource Allocation in the Context of Heterogeneous
Wireless Networks"
Eftychia Alexandri, Djamal Zeghlache
(GET/INT, France)
"A Serial SC/S-MMSE Turbo Receiver for MIMO-SDM/OFDM
Transmission in High Data Rate Mobile Communications"
Tetsushi Abe, Hiromasa Fujii, Shigeru Tomisato, Hirohito Suda
(NTT DoCoMo, Inc., Japan)

Student Award  

"Proposal of Clipping and Inter-Modulation Noise Mitigation
method for OFDM Signal in Non-Linear Channel"
Pisit Boonsrimuang*, Kazuo Mori**, Hideo Kobayashi**, Tawil
Paungma*
(*King Mongkut's Institute of Technology Ladkrabang, Thailand,
**Mie University, Japan)  
"Analysis and Evaluation of a Decentralized Multiaccess MAC for
Ad-Hoc Networks"
Marc Realp*, Ana I. Perez-Neira**
(*Telecommunications Technological Centre of Catalonia, Spain,
**Polytechnic University of Catalonia, Spain)  
"Throughput of the CSK/SS ALOHA System with Nonorthogonal
Sequences"
Nobuyoshi Komuro, Hiromasa Habuchi
(Ibaraki University, Japan)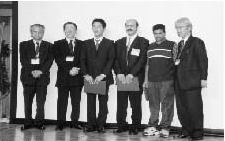 WPMC2003 Best Paper Award Winners