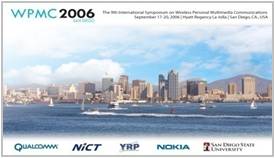 The 9th WPMC2006 was held in September 17-20 in San Diego USA.
Original official WEB site of WPMC2006 has already been closed.
The following information is cited from YRP NEWS (Spring 2007 No.37)
The WPMC2006 drew 292 participants from 34 countries. 363 papers were submitted for the symposium, and 290 of them were accepted.