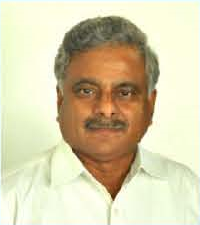 Datnam Varada Rajakumar,
General Chair, GWS 2015
Director, Indian Institute of Technology (IIT), Bhubaneswar, India
Wireless communications, besides providing the last mile access and the vital mobility, revolutionized the way we communicate, learn, stay connected, learn and even entertained. Pioneering work and developments in communication system theory, protocols and VLSI technology played a catalytic role in making a quick evolution possible. The yet other area of ICT which is going to revolutionize the way we communicate with and handle things including gadgets and machines is Internet of Things (IoT). These areas have been experiencing vibrant research and technology development activities. The Global Wireless Summit (GWS)-2015 scheduled to be organized at Hyderabad, provides an exciting platform for the participating researchers to network, present their work, and collaborate. The technical sessions are designed to include Workshops from leading research groups and technical sessions studded with papers from outstanding scientists from across the globe and efforts are being to make the summit exciting and memorable.
The known history of Hyderabad dates back by more than 400 years, as it suggests Hyderabad means, "Lion City", derived from the Persian words and is located in the newly formed State of Telangana. The city's role in the pearl trade has given it the name "City of Pearls" and is one of the major global trading centre for large diamonds. Besides, being a place for laboratories for several advanced technologies, of late Hyderabad has emerged as a global centre of information technology, and the area housing the related industries is, popularly known as Cyberabad.
It gives me a great pleasure to welcome all the participants of GWS-2015 including WPMC 2015 and Wireless VITAE 2015 to the exciting sessions at Hyderabad.
Looking forward to seeing you in Hyderabad !
Ratnam Varada Rajakumar,
General Chair, GWS 2015
Director, Indian Institute of Technology (IIT), Bhubaneswar, India