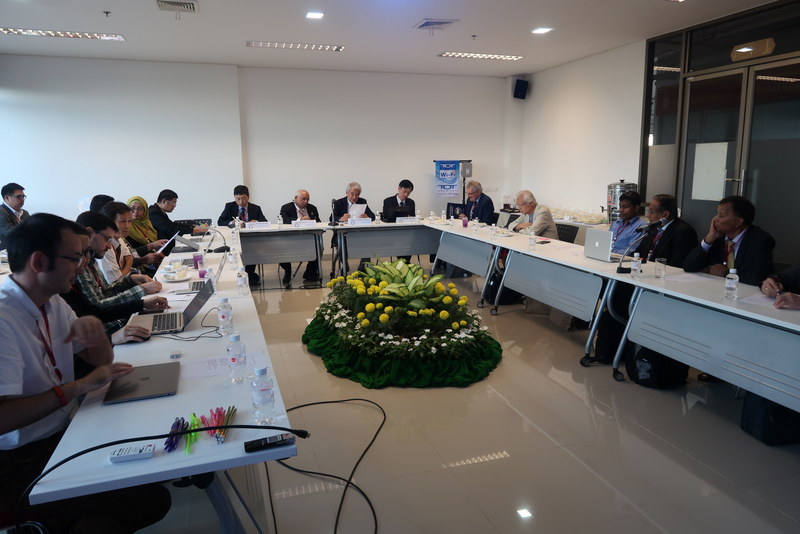 WPMC Steering Board Meeting was held at the venue of WPMC2018 on 26th, November, 2018 .
Attendees
Co-Chair
Dr. Shingo OHMORI, YRP R&D Promotion Committee, Japan
Professor Ramjee Prasad, Aarhus University, Denmark
Professor Hiroshi HARADA, Kyoto University, Japan
Board Members
Dr. Kiyoshi HAMAGUCHI, National Institute of Information and Communications Technology, Japan
Professor Fumiyuki ADACHI, Tohoku University, Japan
Professor Peter Lindgren, Aarhus University
Professor Fredric Harris, University of California San Diego
Dr. Anand Raghawa Prasad, NEC Corporation, Japan
Professor Uma S. Jha, University of California San Diego
Reporters and Future WPMC Candidates
Dr. Teeravisit Laohapensaeng, MFU
Asst. Prof. Dr. Punnarumol Temdee, MFU
Dr. Chayapol Kamyod, MFU
Dr. Ivo Sousa, Portugal
Professor Nandana Rajatheva, University of Oulu (Sri Lanka)
Professor Satoshi DENNO, Okayama University, Japan
Dr. Rina Pudji Astuti, Indonesia
Dr. Muhammad Ary Murti, Indonesia
Secretariat
Ms. Miyuki SUDO, NICT
Ms. Miho KAMIMURA, YRP R&D Promotion Committee
Mr. Tetsu ITANO
Ms. Noriko UCHIDA
2.  Agenda
【Subjects to be reported】
(1) Report of WPMC2017 (Telekom University, Indonesia)
Professor Ir. Rina Pudji Astuti reported and submitted the final report.
(2) Report of WPMC2018 (Mae Fah Luang University, Thailand)
TPC Chair, Prof. Punnarumol Temdee reported numbers of contributed papers, accepted papers, and budget.
(3) Presentations of two candidates of WPMC2019
As candidates, Sri Lanka and Portugal presented the proposals of WPMC2019.
(4) Presentation of a candidate of WPMC2020
Professor Satoshi DENNO presented the proposal of WPMC2020.
【Subjects to be deriberated】
(5) Decision of the host country of WPMC2019
The Board decide to choose Lisbon, Portugal as the venue of WPMC2019.
(6) Decision of the host country of WPMC2020
The Board decide to choose Okayama, Japan as the venue of WPMC2020.
(7) conversion of WPMC and GWS
In the past including this time, WPMC and GWS were held together at the same period and venue. In order to avoid the confusion of attendees, the Board decided to converge WPMC and GWS for expanding the fields to converge technologies and business. The next symposium should be held as the WPMC2019.
(8)New members of Steering Board
WPMC Bylaw defines that a member who does not join the meeting in the three consecutive year should automatically be deleted from the list. According to this rule,  four new members were authorized.
(9)Modification of WPMC Bylaw
Make clear of definitions of terminologies such as Steering Board and Organizing Committee.