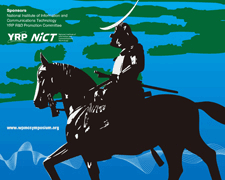 Original official WEB site of WPMC2009 has already been closed.
http://www.ilcc.com/wpmc09/index.html
YRP WEB site is also still active..
http://www.yrp.co.jp/en/event/event-archive/wpmc2009en/index.html
Overview
The 12th International Symposium on Wireless Personal Multimedia Communications 2009 (WPMC'09) was held in Sendai Japan on September 7-10 under the joint sponsorship of YRP R&D Promotion Committee and the National Institute of Information and Communications Technology (NICT), and in cooperation with the Tohoku University in Sendai Japan. This was the 3rd time when  WPMC was held in Japan following the WPMC'98 (1st time) and WPMC'03 (2nd time).
An opening ceremony was held in Hotel Metropolitan Sendai and had the guest's greeting from Ms. Emiko Okuyama, Mayor of the City of Sendai and Mr. Ichiro Izawa, Director-General, Tohoku Bureau of Telecommunications, Ministry of Internal Affairs and Communications (MIC).
WPMC'09 drew 306 participants (115 from abroad, 191 from Japan) from 33 countries. 243 papers were submitted, and 190 of them were accepted.  The symposium also featured 64 lectures by invited speakers and panel sessions. 
Opening Ceremony

Welcome  Address
Prof. Fumiyuki Adachi, Tohoku University, General Chair of WPMC '09
Dr. Hideo Miyahara, President of NICT

Prof. Dr. Mitsutoshi Hatori, Chairman of YRP R&D Promotion Committee

 

Ms. Emiko Okuyama, Mayor of the City of Sendai

Mr. Ichiro Izawa, Director-General, Tohoku
Wireless Business Seminar

Wireless Business Seminar

Award Banquet

Mr.Jaakko Villa CEO of Solutions Space Oy

Mr. Koichi Sumiyoshil Director Planning Dept. of YRP R&D Promotion Committee
Menu